FA Cup 'Live' on Facebook
For the first time, a football match broadcast live on Facebook. A match that will live on social networking sites it is the FA Cup match between Ascot United FC Wembley cons.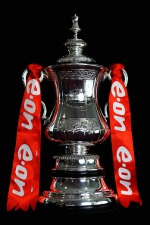 "The history of sports broadcasting will be written on Friday (August 19-red) as Budweiser, the primary partner of the FA Cup and the Football Association presents the first game of the
FA Cup
to be broadcast live on
Facebook
".
Ascot presents a match against Wembley FC United can be witnessed by Budweiser fan page.
"This was the first FA Cup tournament was broadcast live via social networking sites. This is an amazing news for football fans and the club," said director of Budweiser marketing the region of Great Britain, Iain Newell.
The purpose of the "live" via facebook is closer to the FA Cup tournament with a worldwide audience.
"We are committed to bringing the most prestigious knockout competition is getting closer to the fans. The best way to demonstrate that commitment is the first game broadcast to a global audience through
Facebook
," complete Newell.