Qualification Champions League Bayern Munich vs Zurich 2-0 - Winger Arjen Robben scored a goal and assist to help Bayern Munich's 2-0 win over Zurich, the first leg of Champions League qualification, at the Allianz Arena on Wednesday (08/17/2011). The second leg matches will be held at Stadium Letzigrund, 23 August.
Bayern lead 1-0 through midfielder Bastian Schweinsteiger in the eighth minute. From the middle of the penalty box, he went on Arjen Robben's cross into the bottom left corner of goalkeeper Johnny Leoni.
Robben listed his own name in the list of scorers during the match tread the 72nd minute. Having mastered the bait Thomas Mueller, he catapulted the ball that slid into the middle of the goal Leoni.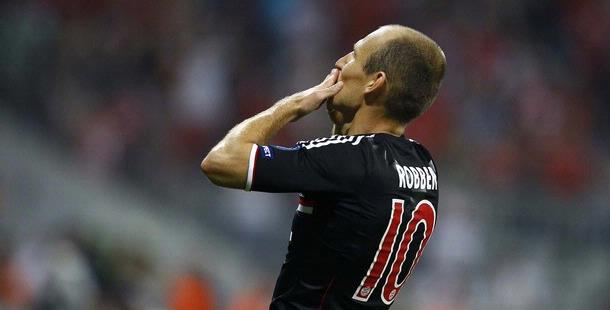 Despite conceding two goals, Leoni's performance can not be called bad considering Bayern dominated the game early on and consistently accurate shooting.
Bayern have the chance to gain a greater advantage, since they dominate the game and consistent release a serious threat to the visitors' goal.In the 12th minute and the 20th, for example, Philipp Lahm and Mario Gomez fired two shots accurately, which successfully countered Leoni. In the 53rd minute, for example, Leoni two consecutive shots to neutralize
Franck Ribery and Philipp Lahm.
In addition, the players seem to panic Zurich, despite two goals down and back trouble. In the 82nd minute, for example, Mario Gomez managed to pull out of the nest Leoni and thereby creating a space shot.
Gomez then was to end its movement with the execution. However, yielded only a goal kick the ball, because it blocked midfielder Dusan Djuric.Bayern defender benefit when the visitors, Mathieu Beda, given a second yellow card for violating Ribery in the 87th minute. However, they failed to add a goal until the long whistle sounded.For 90 minutes,
Bayern
had the ball as much as 61 percent and created eleven golden opportunity from 21 businesses. The Zurich off three shots, without a single one leads right into the target.
The composition of players:
Bayern
: Manuel Neuer; Philip Lahm, Rafinha, Jerome Boateng, Holger Badstuber; Bastian Schweinsteiger, Franck Ribery, Toni Kroos (Thomas Mueller 57), Gustavo Dias; Arjen Robben, Mario Gomez
Zurich
: Johnny Leoni; Mathieu Beda, Heinz Barmettler (Oliver Buff 67), Ricardo Rodriguez, Raphael Koch; Jorge Teixeira, Silvan Aegerter, Djuric Disan; Marco Schonbachler (Adrian Nikci 55), Amine Chermiti (Josip Drmic 84), Admir Mehmedi