Djokovic jeered Sharapova
Novak Djokovic act silly again spit in the face of the media crew. What makes a scene, this time the world number one Maria Sharapova made ​​a victim of him.
In addition to playing good tennis, Djokovic has been well known as a humorous man. On that basis he then earned the nickname 'The Djoker' from the public.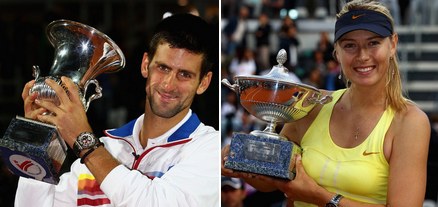 Cuteness by cuteness continues diumbar by Djokovic and even until now. Still fresh in the minds candaannya with Caroline Woznicaki while attending a press conference ahead of performances at
Wimbledon in 2011
some time ago. When it Wozniacki pretend to be journalists, while Djokovic is indeed happens to be the speakers at the occasion to answer arbitrary questions posed and ahasil percahlah laughter in the room where the event took place. Still not bored, as reported CBNnews, August 26, 2011, Djokovic returned acting silly by wearing blond wig that resembles a hair model Sharapova when attending the cordial with the media ahead of U.S. Open 2011 event. Not only that, he also imitating the former tennis queen came from Russia and a new stop until Sharapova suddenly came up.
Found himself being teased by Djokovic, Sharapova could only smile as he threw the threat of revenge. "You'll see, I will repay," said
Sharapova
.