Rusdy Bahalwan Died
Indonesia left the football world one figure. Rusdy Bahalwan, a former player and coach who also had handle Persebaya Indonesia national team, had just died.
The news received from the family, the deceased dies on Sunday (08/07/2011) night at the family home in the area of ​​Jl. Rungkut Mejoyo Gg I No.38. He will be buried on Monday (08/08/2011) evening hrs.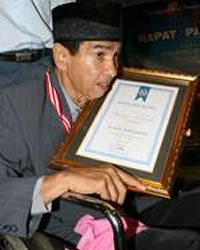 "Father died at 22:30 pm and will be buried after Asr prayers at family graves TPU Pegirian. In addition, mas, I also apologize if the father had been wrong," said the wife of the deceased, Ramadhani, with sobs when contacted
detiksport
.
Rusdy suffered a fairly severe pain since about 2004. Once attacked by a stroke, he was also suffering from degenerative diseases and complications that make its activity so very limited. He still continued to struggle against her illness until she has passed away to the Almighty.
PROFILE: Rusdy Bahalwan
This is the legend and figure Persebaya Surabaya football ...
Rusdy Bahalwan
Rusdy Bahalwan born in Surabaya, June 7, 1947, from partner Ali Bahalwan and Rugaiyah Baadillah. Rusdy finish school at SMAN 6, 1966. Then he was accepted at the Faculty of Economics, University of Airlangga (Airlangga University), 1967. In college at Airlangga University, Rusdy much time is spent on football. He arrived back and forth Surabaya-Jakarta to attend training camp (TC) national team. In the end Rusdy opt out of Airlangga University and pursue a career in football.
Rusdy married a girl named Ramadhani Medan. His introduction to Ramadhani also inseparable from football. Both know each other when defending Rusdy Persebaya in Marah Halim Cup tournament held in Medan in 1976. From that marriage, they were blessed with three children, Irfan Bahalwan, Khaira Imandina Bahalwan, and Ikhwannurdin Bahalwan. His three sons were now grown up. Irfan and Khaira is now studying in ITS and Unesa. Ikhwannurdin being a student of SMAN 16 Surabaya.
Taught religious education parents had brought into his coach and ustad Rusdy. Despite struggling in the field of sports, spiritual Rusdy always give injections to players proxies.
"I intentionally insert the moral messages that we are more advanced football, and far from erosion damage," said former activists of the Indonesian Moslem Student Association (IMSA) East Java.
The pattern of breathing coaching Rusdy religion is embodied in action. One of them, when dawn came, however, did not hesitate to knock on the door Rusdy rooms players who are Muslims to perform prayers in congregation. From there then followed by Kultum (lecture seven minutes). This togetherness finally took Rusdy as a modest figure in the eyes of his players.
It is also recognized Mustaqim, a former national team player who had become assistant Rusdy. Mustaqim always imitate the dawn prayer in congregation activities practiced until he became coach.
Rusdy always said aloud: "A player who deliberately release the ball for the team to lose, it means it has sinned. The coach instructed his players to intentionally injure the opponent's star player, has also sinned. Likewise, managers who set the final score of the game, and the referee for something that necessarily favors one team, including acts of sin. Therefore, all of which I have mentioned above we have to leave where football when we want to progress, and threatened not to disperse.
Problem irregularities in football, the most industrious Rusdy be classified. Once upon a time, there is a player who binaannya drug addiction. This player is very famous. He also subscribed to the national team. Rusdy know it all. Several times he was warned, but his behavior did not change. Finally, he immediately took the decision to fire the players, although he publicly railed eventually because the player is considered a great player.