Rossi to Honda Next Year
Failure to perform well with Ducati Valentino Rossi frustrated. Then came rumors that the Italian is negotiating with Honda for next year. In the first 10 series this season, Rossi nil victory. Best achievements on the podium only once, namely the third podium in MotoGP France. The rest, he finished in positions four, five, six, seven and nine.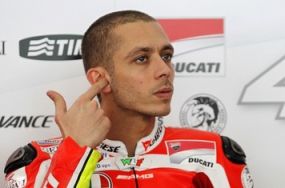 In a way, this is the worst achievements throughout his career as a rider Rossi. The last time he had never won in the 10 series is the first in a season in his debut season in the 125cc class in 1996 when he won in the series to the 11th with Aprilia. Arose rumors that Rossi was not happy with the Ducati and is negotiating to join the Gresini Honda next year. The source is not playing, he is a former MotoGP rider Marco Melandri.
"I know that
Valentino Rossi
has been contacted for Gresini (one spot) on the Honda 2012," Melandri told the Tribune quoted Racing All About Bikes.
"This confirms what I've said several times before: 'marriage' of
The Doctor
with Ducati has had its moon," said Melandri who like Rossi also Italian.
So far, not been proven how much truth claims
Melandri
. Both Rossi and
Ducati
was disappointed with its performance on this year, but they never indicated it would break joint venture.