Lewis Hamilton Chance to Join Ferrari
Lewis Hamilton got a question, if the groom by Ferrari and reunited with Fernando Alonso. Claimed to still feel at home at McLaren, Hamilton did not seal it a chance.
Previously reported that Ferrari team principal Stefano Domenicali said, would be happy to recruit Hamilton and put him in a team with Alonso once again a team with him at McLaren.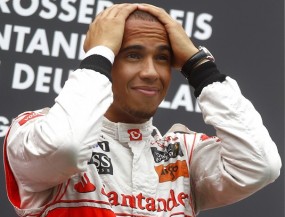 "I rate
Hamilton
as a potential driver for this team. In life you should never say impossible, people can change," Domenicali said at the time.
This obviously makes the future with
McLaren's Hamilton
finished more speculation, given the Briton had previously also been linked with other rival teams,
Red Bull
.
With his future again speculated, though this time with
Ferrari
,
Hamilton
had retorted lightly. "Right now I have no plans to do so, it's not something I want or I think needs to be done."
"But we're talking about a fantastic team and you never know what could happen in the future," added Hamilton in the U.S. that was launched Planet
F1
.