Got a Request for AC Milan Ibrahimovic - Zlatan ibrahimovic claimed to find a new family at AC Milan. He also had a new request to the club who occupied it since last year. "I may be the world's best team when playing for Barcelona, but it's not important when you're not happy," said Ibra on Football Italia, recalls her career for one season before joining Milan.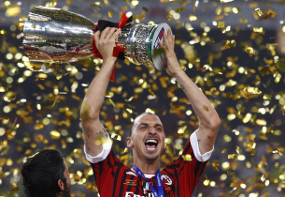 Ibra who want the Champions League trophy decided to move to
Barca
. Unfortunately for him, he was not too tuned in Los Cules and the trophy he wanted it fails to be achieved. Barca eliminated in the semifinals by the team that abandoned Ibra
Inter
. After reportedly did not have a harmonious relationship with coach Pep Guardiola, Ibra eventually moved to Milan. In its inaugural season with the
Rossoneri
, the Swedish striker is incised 21 goals last season and took
Milan
won the Serie A. "When you had a bad experience as I can in barcelona, you'll appreciate things when everything goes smoothly," he said. "I do not want to talk a lot about Milan. All I can say here is fantastic and that's the reality."Because that's felt at home in Milan Milan Ibra request to let him play there until his contract runs out. He did not want to go, and if later he moved to another club, it is caused because Milan do want to go."I never felt like at other clubs in Milan. I'll settle here for life, at least until 2014." I will not leave Milan, unless they decide to sell me, he said.