Fabregas Wear Number Four in Barcelona
After officially become a Barcelona player, Cesc Fabregas immediately introduced to the fans packed the stadium Camp Nou. Just like at Arsenal, Cesc back wearing the number four.
Barcelona officially announced the merger of Fabregas, on Monday (8/15/2011) evening hrs. Barcelona was afterwards held a 24-year player introductions.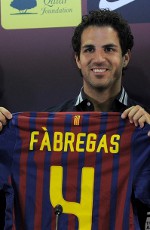 "There is great expectation to see
Cesc Fabregas
once again wearing the color of
FC Barcelona
. An example is when fans of the incredible amount of which came at noon (local time-red) to the Camp Nou to see Cesc Barca wearing new uniforms, with a back number 4 and Fabregas backs name, "writes Barca on his official website.
"When the clock struck 13:30 and the timeliness of the British style, Cesc stepped onto the field at the Camp Nou from the entrance of the player and listen to the song mars Barca. He had previously done this when in uniform face Arsenal and Barcelona. But from now on, he will do this when the host. "
"Supporters who packed the stadium from 12:00, greeted him with applause that echoed."
Fabregas signed a contract which will tie him at Barcelona until 2016. Buy-out clause itself is worth 200 million euros.