Sebastian Vettel World Champion F1 2011
Sebastian Vettel successfully defended the F1 world title. Despite only finishing third in the GP Japan, Vettel figures certainly should not be overstepped its competitors in the rest of the series.
In the GP Japan Sunday (10/09/2011) noon CST, Vettel, who started in the first position directly engaging duel with Jenson Button.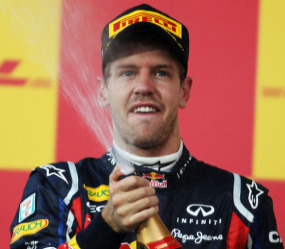 Button Vettel incident was investigated by race stewards. But then announced that the incident was certainly not going to get a follow-up.
In the last ten laps the race, Vettel had stuck long enough behind
Fernando Alonso
, who occupies the second position, with Button leading the race.
In the end positions held. Button in the first position, followed by Alonso and Vettel.
Even so, Vettel certainly can not be overtaken again because it only takes one additional point in this series, to win the world title for the second time in a row.
GP Japan Results:
Pos Driver Team Time
1. Button McLaren-Mercedes 1h30: 53 427
2. Alonso Ferrari 1160 +
3. Vettel Red Bull-Renault + 2006
4. Webber Red Bull-Renault + 8071
5. Hamilton McLaren-Mercedes + 24 268
6. Schumacher Mercedes + 27 120
7. Massa Ferrari + 28 240
8. Sauber-Ferrari + Perez 39 377
9. Petrov Renault + 42 607
10. Rosberg Mercedes + 44 322
11. Sutil Force India-Mercedes + 54 447
12. In Resta Force India-Mercedes 1:02.326 +
13. Kobayashi Sauber-Ferrari 1:03.705 +
14. Alguersuari Toro Rosso-Ferrari 1:04.194 +
15. Maldonado + Williams-Cosworth 1:06.623
16. Senna's Renault + 1:12.628
17. Barrichello Williams-Cosworth 1:14.191 +
18. Kovalainen Lotus-Renault + 1:27.824
19. Trulli Lotus-Renault + 1:36.140
20. Glock Virgin-Cosworth + 2 laps
21. D'Ambrosio Virgin-Cosworth + 2 laps
22. HRT-Cosworth Ricciardo + 2 laps
23. Liuzzi HRT-Cosworth + 2 laps