Latest FIFA rankings Netherlands No.1 - After enduring more than a year, Spain had to give up his throne to the Netherlands which now tops FIFA. Indonesia received the good news that managed to climb the rankings. Quoted from the official FIFA website, De Oranje benefited by a 1-2 defeat La Furia Roja received from Italy in a friendly some time ago. Success is ranked one of the first to the Netherlands.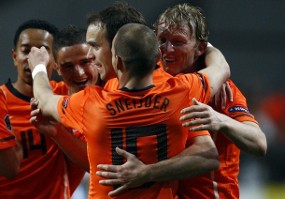 Learned German victory over Brazil does not change its position at number three. Precisely Seleccao now slipped two places to rank sixth. England rise to fourth while Uruguay has become the best team in South America to occupy the fifth rank. Completing the order of the top 10, Italy and Argentina succeeded in raising its rank, berbading reversed by Portugal and Croatia, each of which fell one place.
A number of teams in the top 50 get pretty big leap. Russia rocketed five steps and now ranks 13, the same thing happens in Nigeria is currently ranked at 38.
Predicate of the best teams on the continent of Africa is still owned by the Ivory Coast and Japan remain the most superior in Asia. Both share ranking in 15th position with France.
What about
Indonesia
? "Red and White" made up of five rankings to number 131, two steps below Singapore and Vietnam and closed to within 11 steps from Thailand, most teams okay at friend of Southeast Asia. While the position does not change with Malaysia ranked 146.
FIFA Ranking per August 24
1. Netherlands
2. Spain
3. German
4. English
5. Uruguay
6. Brazil
7. Italy
8. Portugal
9. Argentina
10. Croatia
11. Chile
12. Norway
13. Russia
14. Greece
15. Ivory Coast
16.French
17.Japan
18. Sweden
19. Montenegro
20. Mexico
----------
131. Indonesia