Italy beat Spain 2-1
National Team (Caps) Italy a 2-1 win over Spain, in a friendly match, at San Nicola, Bari, on Wednesday (09/10/2011). This is the first Italian victory over Spain since 1994.
The first goal Italy midfielder Riccardo Montolivo created in the 11th minute. Goals stems from the movement that led Criscito feedback to Montolivo. Montolivo then toss the ball toward the goal. Ball into the goal after the ruler.
Midfielder Alberto Aquilani scored his second goal in the 84th minute. Utilizing feedback Giampaolo Pazzini, Aquilani who fired the ball about a Spanish defender and into the goalkeeper Victor Valdes.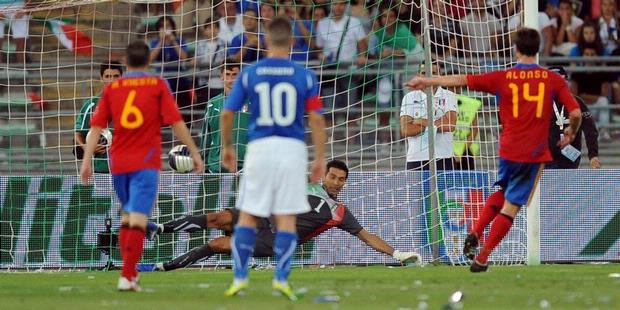 Spain scored mere puppet created Xabi Alonso from the penalty spot, following the occurrence of contact between Giorgio Chiellini and Fernando Llorente.
Italy looked more aggressive and dangerous for at least 25 minutes. In the fifth minute, for example, Domencio Criscito opened fire, which the goalkeeper Iker Casillas pole.
About two minutes after the goal Montolivo, Antonio Cassano's turn to get a chance to equalize. Being in a good position inside the penalty box, he sent the ball by Criscito. However, Cassano failed to reach them.
Spain seems to have improved as the game entered the 30th minute. However, they have difficulty creating chances, until the creation of Alonso's goal.
After Alonso's goal, then both sides seem equal in exchanging threats. After the shot was foiled Casillas Cassano in the 42nd minute, the Spanish retaliated with an attack led to a cross from Andres Iniesta in the 42nd minute, which can be anticipated by Criscito.
In the 44th minute, Iniesta and Fernando Llorente alternately fired, which did not produce goals. Before halftime, Italy Cassano replied through a header, which bounced over the crossbar.
Threaten mutual action continued in the second half. After the gunfire stopped Cassano Victor Valdes outside the goal line in the 59th minute, Gianluigi Buffon anticipated the shot perfectly Fernando Llorente in the 63rd minute.
In the 69th minute, taking advantage of the ball gag David Villa free kick which hit the posse, Alonso fired a shot, which this time could be anticipated Buffon.
Two minutes later, Mario Balotelli managed to dribble past Sergio Busquets and fired a shot, which bounced over the crossbar Valdes.
Action continues assault each other, but, except for Aquilani goal, none of both camps able to create meaningful opportunities and goals, until the long whistle sounded.
Lineup
Italy
: Buffon; Maggio, Ranocchia (Bonucci 77), Chiellini, Criscito; De Rossi (Aquilani 65), Pirlo, Thiago Motta (Marchisio 46); Montolivo (Nocerino 74), Cassano (Balotelli 59), Rossi (Pazzini 59)
Spain
: Casillas (Valdes 46); Iraola (Thiago Alcantara 46), Pique (Sergio Busquets 45), Albiol, Arbeloa; Javi Martinez, Xabi Alonso, Iniesta (Villa 46); Cazorla (Mata 79), Torres (Llorente 14), Silva