Conquer Germany with a score of 3-2 Brazil
Germany showed its superiority in the face Brazil in a friendly. Der Panzer play better than the Samba team and finally picking a 3-2 victory.
Playing under the support of loyal spectators who packed the Gottlieb Daimler Stadium, Stuttgart, Thursday (11/08/2011) pm dawn, Germany played steady, coupled with confusion Brazil in early action.
Since its inception, the German attempt to take control of the game. In the sixth minute, Mario Goetze left foot shot from inside the penalty box by goalkeeper of Brazil, Julio Cesar, with difficulty.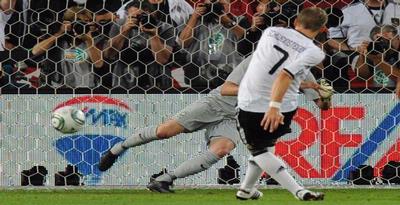 But Brazil is also not without resistance. At minute 33, the execution of Dani Alves free kick goal against Germany slid rains but goalkeeper Manuel Neuer can throw it out.
The first minute of the second half, Brazil had a golden opportunity when Alexander Pato escaped Germany in the penalty box. However, gastric Pato kick wide on the right goalkeeper Neuer.
Germany broke the deadlock on 60 minutes. Toni Kroos flopped and the referee gave a penalty for Germany. Perfectly, Bastian Schweinsteiger penalty to be scored. Germany 1, Brazil 0.
Seven minutes later, the Germans increased the distance to be 2-0. Utilizing feedback from a mature breakthrough Kross, Goetze kicked into the skin round after being around Cesar.
Brazil's turn to get a penalty on 71 minutes due to the imposition of Dani Alves by Philipp Lahm. Robinho is so successful kicker still reduce the score to 1-2 for Germany.
While eager to attack Brazil, Germany struck again. In the 80th minute, Schweinsteiger steal the ball from the feet of Thiago Silva and feed to Andre Schuerrle and the latter scored the ball with a solid right-foot shot.
At the last minute, the German a little off guard. As a result, swift kick from outside the penalty box Neymar successful Neuer bust nets and change the score finished 3-2 to the host advantage still.
In the remaining time available, no additional goals from both teams created. Germany had the right pocketed a 3-2 victory.
The results of friendly matches on Wednesday (10 / 8) evening:
Japan

3 - 0

Korea Republic
China

1 - 0

Jamaica
Kazakhstan

1 - 1

Syria
Azerbaijan

0 - 1

Rep. of Macedonia
Russia

1 - 0

Serbia
Lithuania

3 - 0

Armenia
Latvia

0 - 2

Finland
Belarus

1 - 0

Bulgaria
Cyprus

3 - 2

Moldova
Senegal

0 - 2

Morocco
Ivory Coast

4 - 3

Israel
Hungary

4 - 0

Iceland
Albania

3 - 2

Montenegro
Norway

3 - 0

Czech Republic
Oman

1 - 1

Bahrain
Ukraine

0 - 1

Sweden
Liechtenstein

1 - 2

Switzerland
South Africa

3 - 0

Burkina Faso
Austria

1 - 2

Slovakia
Malta

2 - 1

Central African Rep.
Poland

1 - 0

Georgia
San Marino

0 - 1

Romania
Turkey

3 - 0

Estonia
Germany

3 - 2

Brazil
Italy

2 - 1

Spain
Ireland

0 - 0

Croatia
Scotland

2 - 1

Denmark
Slovenia

0 - 0

Belgium
Wales

1 - 2

Australia
Bosnia

0 - 0

Greece
France

1 - 1

Chile
ortugal

1 - 0

Luxembourg
Tunisia

1 - 0

Mali