Eto'o highest-paid player in the World
Samuel Eto'o to move the process Anzhi continues. The latest news said the Cameroon star will soon become the world's highest-paid player. Inter was going to get huge profits.
Anzhi reported to have reached an agreement with Inter to buy Eto'o worth 27 million euros. Another advantage for Inter, they can save up to 72 million euros, as teranggarkan if the players continue with them until his contract finished in 2014.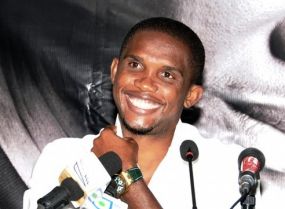 Eto'o has been the one of the most expensive player at Inter, with the salary plus the value of the tax could reach 24 million euros per season.
Anzhi, the Russian club based in the capital of the Republic of Dagestan, Makhachkala, was willing to pay extraordinary salaries Eto'o. Unmitigated, the club owned by oil tycoon named Suleiman Kerimov was ready to give the players 30 years was 20 million euros per year.
If so, then Eto'o would be the highest-paid player in the world, beat the charge at
Real Madrid Cristiano Ronaldo (12 million euros / season)
and
Barcelona star Lionel Messi (10 million euros / year)
.
When the transfer process is completed, expected on Monday (22 / 8) tomorrow. Eto'o has even dared to say congratulations on the high-Inter, as his words published daily Gazzetta dello Sport website.
"Thank you all. I will always support Inter and just ask one thing: keep winning without me," he said, as reported by the Italian Football.
Anzhi is becoming the new rich club since Kerimov purchased in January this year. Kerimov was placed in the ranks 118th in the list of world's richest man by Forbes magazine, with a fortune of 7.8 billion U.S. dollars.
Before they buy
Yuri Zhirkov
Eto'o from
Chelsea
, and long before another veteran star has brought 38-year-old Brazilian,
Roberto Carlos
, in February, and a month later make it as club captain.
Anzhi The players live and train at a training center in suburban Moscow. Instead, they "go" to Makhachkala to carry out home games, flying about 2,000 miles as much as 15 times in one season.