Hamilton fastest in GP Korea, ​​McLaren Dominate
McLaren became the fastest in second free practice GP Korea on Friday (14.10.11). Team based in Woking is putting two pebalapnya in the leading position, with Lewis Hamilton to be the fastest, followed by Jenson Button.
Behind the McLaren duo was there that Red Bull Racing have confirmed themselves as the F1 world championship season in 2011, Sebastian Vettel. The German rider beat Ferrari, Fernando Alonso, who had to settle for fourth.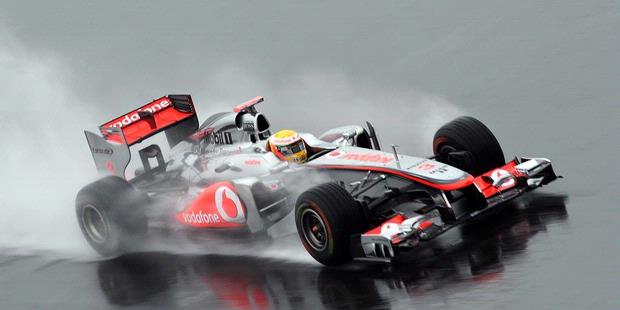 In the second session in which the condition of the track is not too ideal because it is still dirty and wet - on the first practice so that the rain did not last a maximum exercise-Hamilton successfully completed 26 laps, and record the best time of 1 minute 50.828 seconds. 2008 world champion was 0.104 seconds ahead of Button, who devoured 19 laps.
Apparently, this is perfect Yeongam circuit with McLaren, because they outperform its rivals with a coherence time of more than 1 second. Vettel, who for the second year in a row becomes F1 world champion, 1.818 seconds behind, as well as Alonso, 1.946 seconds slower.
Fifth place occupied by his teammate Vettel, Mark Webber. Australian rider beat the record time of Jaime Alguersuari (Toro Rosso), Felipe Massa (Ferrari), Nico Rosberg (Mercedes GP), Sebastian Buemi (Toro Rosso), and Paul in Resta (Force India), which complements the composition of the top 10.
Meanwhile, Michael Schumacher, who became the fastest in first free practice, was thrown from the top 10. Seven-time F1 world champion, who earned the nickname "Rain Master", must be satisfied in order to-14. He was 4.137 seconds behind Hamilton.
The results of second free practice
Lewis Hamilton McLaren-Mercedes 1m50.828s 26
Jenson Button McLaren-Mercedes 1m50.932s + 0104 19
Sebastian Vettel Red Bull-Renault 1m52.646s + 1818 30
Fernando Alonso Ferrari 1m52.774s + 1946 25
Mark Webber Red Bull-Renault 1m53.049s + 27 2221
Jaime Alguersuari Toro Rosso-Ferrari 1m53.402s + 2574 25
Ferrari's Felipe Massa 1m53.707s + 2879 24
Nico Rosberg Mercedes 1m53.914s + 3086 18
Sebastien Buemi Toro Rosso-Ferrari 1m53.948s + 27 3120
Paul Resta at Force India-Mercedes 1m53.957s + 32 3129
Vitaly Petrov Renault 1m54.200s + 3372 26
Adrian Sutil Force India-Mercedes 1m54.392s + 3564 26
Rubens Barrichello Williams-Cosworth 1m54.831s + 4003 30
Michael Schumacher Mercedes 1m54.965s + 4137 21
Bruno Senna Renault 1m55.187s + 28 4359
Sergio Perez Sauber-Ferrari 1m55.203s + 4375 24
Kamui Kobayashi Sauber-Ferrari 1m55.544s + 4716 23
Pastor Maldonado Williams-Cosworth 1m56.067s + 5239 22
Heikki Kovalainen Lotus-Renault 1m56.669s + 5841 20
Jarno Trulli Lotus-Renault 1m57.173s + 6345 19
Timo Glock Virgin-Cosworth 1m58.269s + 7441 25
Jerome D'Ambrosio Virgin-Cosworth 1m59.458s + 8630 26
Daniel Ricciardo HRT-Cosworth 1m59.958s + 9130 19
Tonio Liuzzi HRT-Cosworth 2m00.165s + 9337 20