Supercoppa 2011: Milan vs Inter 2-1 - AC Milan won the Italian Super Cup champions after a beat Inter Milan 2-1 at the Beijing National Stadium on Saturday (06/08/2011) night.
Milan had actually left behind by a goal created by Wesley Sneijder in the 25th minute. Dutch midfielder who failed to execute a free kick denied by Christian Abbiati.
Winning 1-0, Inter increasingly master the game. In fact, Samuel Eto'o almost double the advantage his team. However, the Cameroon striker's shot could still be anticipated Abbiati in the 37th minute.
Milan is not without opportunities. Zlatan Ibrahimovic nearly scored a reply after maximizing cross Ignazio Abate. Unfortunately for Milan, Ibrahimovic's header hit the pole still goalkeeper Julio Cesar.
It's a last chance and Milan were forced behind 0-1 until halftime.
Milan tried to control the game in the second half. Massimiliano Allegri made a team effort finally paid off with goals that were created Ibrahimovic in the 60th minute.
Goals came from foresight feed cooked to release Robinho Seedorf free-standing in the penalty box. Quickly, Seedorf release the bait that was greeted with a header Ibra hard and goals.
The position at 1-1, Allegri made some changes to the strategy team. He put Alexandre Pato to replace Robinho.
Changes made Allegri quite brilliant. How not, Pato was the actor behind the creation of Kevin Prince-Boateng scored in the 69th minute. The ball of bait Abate, Pato immediately fired hard.
Although the kick Brazilian striker hit the post, Boateng managed to reach the ball and stuffed it. Boateng vent his joy by doing a kung fu kick.
Disadvantaged, Inter raise the intensity of their attacks to score a reply. Unfortunately the effort failed after a score of 2-1 to Milan's advantage lasted until the fight was over.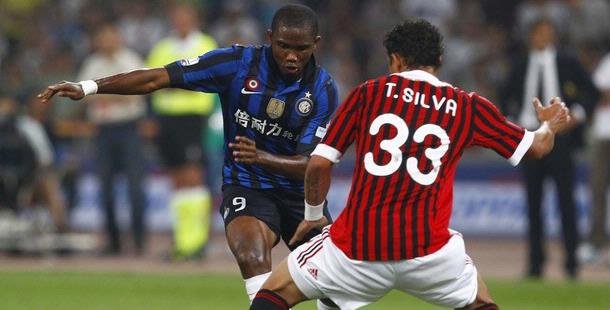 Teams AC Milan:
Christian Abbiati; Thiago Silva, Alessandro Nesta, Gianluca Zambrotta, Ignazio Abate; Mark Van Bommel; Kevin-Prince Boateng, Clarence Seedorf, Gennaro Gattuso (Ambrosini 75), Robinho (Alexandre Pato 61), Zlatan Ibrahimovic.
Inter Milan:
Julio Cesar; Walter Samuel, Cristian Chivu, Andrea Ranocchia; Dejan Stankovic (Giampaolo Pazzini 74), Thiago Motta, Joel Chukwuma Obi, Javier Zanetti; Samuel Eto'o, Wesley Sneijder, Ricardo Álvarez Puig Faraoni.