Sebastian Vettel Winner GP Belgium
Sebastian Vettel finally tasted victory again after the "fast" for three series. The Red Bull driver won the race followed by teammate, Mark Webber, in the second position.
At the Belgian Grand Prix at the Circuit Spa-Francochamps, Sunday (28/08/2011), which occupies pole Vettel did a good start. However, the leadership contest had alternated several times, from Nico Rosberg, Lewis Hamilton, Fernando Alonso up, then Vettel again.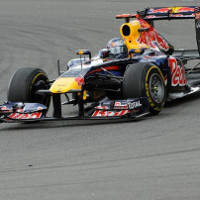 Unfortunately for
Hamilton
, he could not finish this race. His car was brushed by a car Kamui Kobayashi on lap 13 so that the
McLaren Mercedes
was forced to step aside. Hamilton makes the safety car crash into the track. From the moment that Vettel managed to maintain his lead over other racers. For the German racing driver, this is his first victory since the last European Grand Prix. Later, at the British GP, German, and Hungarian, respectively Alonso, Hamilton and
Jenson Button
became the winner.
Another note, with finisnya Mark Webber in second position, then the Red Bull riders placing second in the two highest positions on the podium. Meanwhile,
Button
completed the podium with the winner finishing in third.
2011 FORMULA 1 GRAND PRIX SHELL Belgia
:
Sebastian Vettel RBR-Renault 44
Mark Webber RBR-Renault 44 3,7 detik
Jenson Button McLaren-Mercedes 44 9,6 detik
Fernando Alonso Ferrari 44 13,0 secs
Michael Schumacher Mercedes 44 47,4 secs
Nico Rosberg Mercedes 44 48,6 secs
Adrian Sutil Force India-Mercedes 44 59,7 secs
Felipe Massa Ferrari 44 66,0 secs
Vitaly Petrov Renault 44 71,9 secs
Pastor Maldonado Williams-Cosworth 44 77,6 secs
Paulus di Resta Force India-Mercedes 44 83,9 secs
Kamui Kobayashi Sauber-Ferrari 44 91,9 secs
Bruno Senna Renault 44 92,9 secs
Jarno Trulli Lotus-Renault 43 +1 Lap 18
Heikki Kovalainen Lotus-Renault 43 +1 Lap 16
Rubens Barrichello Williams-Cosworth 43 ​​+1 Lap 14
Jerome d'Ambrosio Virgin-Cosworth 43 ​​+1 Lap 20
Timo Glock Virgin-Cosworth 43 ​​+1 Lap 19
Vitantonio Liuzzi HRT-Cosworth 43 ​​+1 Lap 22
Ret 17 Sergio Perez Sauber-Ferrari 27 +17 Laps 9
Ret 22 Daniel Ricciardo HRT-Cosworth 13 +31 Laps 23
Ret 3 Lewis Hamilton McLaren-Mercedes 12 +32 Laps 2
Ret 18 Sebastien Buemi STR-Ferrari Lap 11 6 38
Ret 19 Jaime Alguersuari STR-Ferrari 0 44 Lap 6