Playoff Champions League Villarreal - Odensa BoldKlub 3-0
Villarreal Striker Giuseppe Rossi scored twice to make his team a 3-0 win over Odensa BoldKlub on the second leg Champions League qualifier on Tuesday or Wednesday (24/8/2011) early morning hrs. With a 3-1 aggregate advantage, team nicknamed "Yellow Submarine" is automatically stepped into the group stage. Aware behind 0-1 in the first leg, Villarreal directly to master the game since the early minutes. Nevertheless, the team "Yellow Submarine" visible difficulty in creating goal. As a result, the home team forced a goalless draw in the first half.
Villarreal began to rise again in the second half. In fact, the team made by Juan Carlos Garrido it only takes ten minutes to break his opponent's goal. Goals created after Giuseppe Rossi released maximize cross from the left sector Nilmar Odensa defense.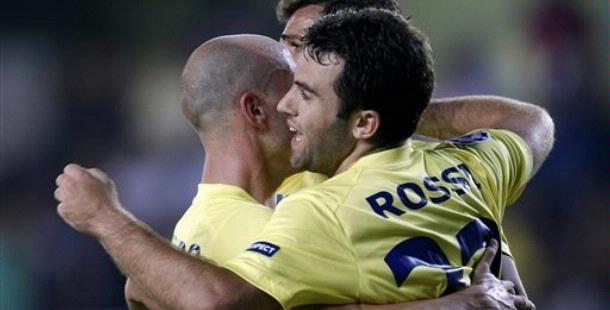 Rossi went back to El Madrigal Stadium roared welcomed the creation of a goal in the 66th minute. Rossi's second goal of the creation process is almost similar to the previous goal. From left defense sector Odensa, Cani release bait into the penalty box. Rossi then directly menyembar ball and scored.
2-0, Villarreal getting the upper hand. Moreover, the home team ahead after striker Odensa number of players getting a red card after breaking Christian Zapata in the 71st minute. Unfortunately, Villarreal also had to play ten players six minutes later.
Borja Valero straight red card after Andreas Johansson's chest gore. Valero was annoyed when dropped Johansson. Moreover, Valero's head was crushed by Johansson. Loss of control, direct Valero Johansson to gore the chest down. This action reminds incident Zinedine Zidane's header into Marco Materazzi's chest at the 2006 World Cup. Although minus one player, Villarreal still bertaji. They managed to find the net again guests at the 82nd minute. From outside the penalty box, Carlos Marchena hard kick off. Although Stefan Wessels managed to read the direction of the ball, "the skin round" eventually lodged in the goal Odensa. Marchena's goals as well as sealing the victory Villarreal 3-0.
Teams
Villarreal:
Diego Lopez; Christian Zapata, Joan Oriol, Pablo Mateo Mussachio; Javier Gallego Camunas, Cani, Marcos Senna, Borja Valero, Llido Soriano Bruno; Nilmar, Giuseppe Rossi
Odensa BoldKlub:
Stefan Wessels; Bernard Mendy, Anders Moller Christensen, Espen Ruud, Tore Reginiussen; Andreas Johansson, Eric Djemba-Djemba, Hans Henrik Andreasen, Kalilou Traore; Rurik Gislason, Bashkim Kadrii
Champions League Playoff Results
APOEL Nicosia
3 - 1
Wisla Krakow
Malmo FF
2 - 0
Dinamo Zagreb
Racing Genk
2 - 1
Maccabi Haifa
Villarreal
3 - 0
OB Odense
Zurich
0 - 1
Bayern Munich