Barcelona European Super Cup winners FC Porto 2-0 Defeat
Lionel Messi became a hero for Barcelona in the European Super Cup match. Barca a 2-1 victory over FC Porto learned is thanks to one goal and one assist Messi.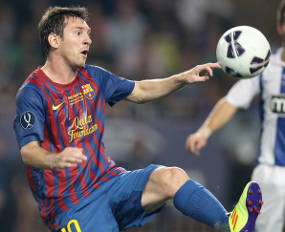 Playing at Stade de Louis II, Monte Carlo, Saturday (08/27/2011), Barca struggled early in the game before a goal from Messi in 39 minutes and
Cesc Fabregas
scored in the last minute to ensure their victory.
In this match, Porto even have to finish the game with nine men due to their two players red carded, Rolando and Fredy Guarin.
The game
Porto actually started the game pretty well. The proof, in the eighth minute a kick Joao Moutinho forced Barca goalkeeper Victor Valdes, threw himself brushed off the ball.
Three minutes later, almost picking Barca's first goal. Andres Iniesta pass the ball on the foot of Pedro Rodriguez Rolando making no off-side, but the flick Pedro soar.
After waiting long enough, Barcelona could eventually scored the opening goal on 39 minutes. Rolando Sodoran ball even reached Messi then deceive the goalkeeper Helton and struck the skin round against Porto. Barca 1, Porto 0.
In the second half, Porto returned to threaten; precisely at 54 minutes. Guarin swift kick forced Valdes to move to the left and just brushed it off so a corner kick.
Two minutes later, Barca back to almost get a goal. This time, the shot horizontally Villa, Messi after the use of bait, Helton can be tamed very well.
Barca benefit from a second yellow card given to Rolando on 85 minutes due to violation of Messi. The first yellow card for Rolando was dropped due to violation of Messi.
In the 88th minute, Barca finished 2-0 to seal victory. Messi welcomes feedback lever, the new play Fabregas in the 80th minute goalkeeper Helton successful break with a measured kick.
In the final minutes, Porto increasingly suffering from a straight red card handed down to Guarin due to harsh tackle on Javier Mascherano.
Not long after, the referee blew the long whistle signaled the end of the game and Barca were entitled to the trophy kings of Europe the 2011 edition.
Lineup
Barcelona:
Valdes; Alves, Mascherano, Abidal, Adriano (Busquets 63); Xavi, Keita, Iniesta; Pedro (Fabregas 80), Messi, Villa (Sanchez 61)
Porto:
Helton; Fucile, Otamendi, Rolando, Sapunaru; Guarin, Souza (Fernando 77), Moutinho J, Rodriguez (Varela 69), Kleber (Belluschi 77)